Classic Camera Collectors Club
Informatif website of Frank Lakiere





TREKKING AROUND THE ANNAPURNA - Nepal 2001

To see photos of the trekking in Nepal click here



The preparation

My girlfriend H. and I had decided to go on a trekking in the Himalayas and to do it without the help of voyage organisations. So the first thing we did was search for information. There is a lot to be found on the internet but our best source was a colleague who had already done the trekking around the Annapurna with her husband, some years before. They gave us a lot of information on what was to be expected there.

To go to Katmandhu is a little more complicated than just buy a ticket. There are few direct flights to Kathmandu. We found that Transavia was the best airline for us and they could get us there at a reasonable price, around 925 EUR p.p. In january we tried to book for a flight around half october, but that was already fully booked. The only possibility left was from 5 november to 5 december. We bought these tickets and from then on we had to prepare the rest: our equipment and our condition.
First of all we had to get good trekking shoes. There is a large choice of them, but as we found out, it is not straightforward to get the right ones. We had to buy a second pair of shoes because we were not satisfied with the first model.

During the summer months we just walked in the weekends -but not every weekend- and it was more to try out our shoes than to built up a good condition.
It was already october before we started to buy other things like special clothing, microfibre underwear, fleece jacket,...
Then we also went to the Tropical Institute for health information and also for the necessary injections.
The last days before our departure we spent on packing. As we planned to do the trek without help of guides or carriers the weight of our backpack was very important. Every kilo that we put in was a kilo that we should have to carry ourselves. But it is equally important not to leave necessary things behind.
After a few trials we managed to have a backpack of maximum 14 kilograms.


DAY 1: Antwerp (Belgium) - Kathmandu (Nepal)

We start by taking the train at Antwerp Central Station at 3 PM and went to Amsterdam Airport, where we had to check in at around 6.30 PM. Our departure is sheduled at 9.30 PM.
We depart right on time for the long, long, long trip to Kathmandu, with a stop-over in the United Emirates at around 3.30 AM. We land at Kathmandu TRIBHUVAN Airport at 9 A.M.

After collecting our luggage we have to buy a visum, which must be paid in American Dollars! (30 USD). And then we leave the airport.
Directly we are besieged by taxi-drivers and hotel employees, who want to drive us to Thamel, the main tourist district of Kathmandu.
One of these guys has a folder with photographs and a description of Hotel SWONIGA. It looks nice and the price is not exagerated. So we decide to go with him and have a look.

The first time in a taxi in Kathmandu you don't believe what you see. The traffic is very dense but the speed is rather low. The traffic rules, especially on who has priority, remain a mystery. After a few days I figure out that the most important rule is: the first one who blows his horn has priority.

We arrive safely in Thamel and the hotel is very nice. At 10 USD a night, it is not the cheapest tourist hotel, but we only have to stay here for 2 days. It has been a long night and so we take a shower, rest some hours and then go for a walk in the tourist filled streets of Thamel.




DAY 2: Kathmandu

Our first day in Kathmandu: a nice sunny morning and breakfast in the garden of a nearby restaurant.
We are seated between tropical trees with grapefruits, papayas and a lot of flowers. This will be a sightseeing day: walking through Katmandou.
Within the Thamel district it is quite busy: walking tourists and riksjas and taxis. At the entrance of Thamel there are policemen that keep the traffic out as much as possible. Once out of the Thamel district it is a different situation: a pandemonium of people, trucks, cars, motorcycles, noice, dust, stink...
But there are of course the old royal palace and the hindoe temples at Durbar Square, where you can have a rest if you can find a way to avoid the insistent men that want to be your guide.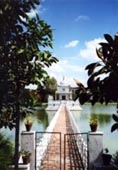 You also have the beautiful square pond with a little white temple in the middle.
And then come the city streets, busy like an ants nest. Here you are surounded, inundated by Nepali people, thousands and thousands of them. And yet the feeling is not menacing but friendly.
Hours later we are back in Thamel that now seems to be a relatively quiet place in Kathmandu.
In the evnening we sit on the hotel roof with a view on faraway mountains and nearby the Swayambhunath temple with the Eyes of Buddha overlooking Kathmandu valley .




DAY 3: Kathmandu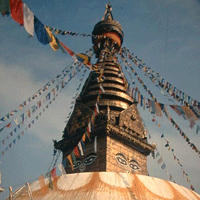 High time to make the final arrangements: first of all we go and buy some clothing that we knew we could get rather cheap: a raincoat with gore-tex lining was only 1000 Rps.
And then we also have to find the office of the ACAP (Annapurna Conservation Area Project) where we will buy the necessary permit (2000 Rps). The office is in the basement of a big building just outside the Thamel district. The permit can also be bought at the beginning of the trekking but then it costs 4000 Rps.
And then there is the transport to Besi-Sahar. It is possible to go by tourist bus or by public bus.
In both cases you have to get your tickets in advance. We decide to go by the public transport and just ask at the hotel to arrange two seats in a public bus and a taxi for transport to the bus station next morning.
Eventually this is not such a good idea, as we will experience the next day.








DAY 4: Kathmandu - Besi-Sahar

6.00 a.m. and the telephone rings!! Time to get up and have a quick breakfast.
Half an hour later the taxi arrives to take us to Kathmandu Central Bus Station. It is a bit of a puzzle but after asking a few times we find the bus. Is is one of the better ones, but that doesn't make it a good one! It's old and used and very uncomfortable with very little leg space. This will not be a pleasant journey...

To Besi-Sahar it is a long and winding road. The speed of the bus rarely exceeds 30 km/h and so the trip will take some 12 hours, including 3 stops to stretch our legs and have some food.
Even if the scenery is beautiful I cannot enjoy it much: the bus is really crowded and I am car-sick.
We arrive at around 17.00 p.m. in Besi-Sahar, not a minute too soon. Glad to be off the bus we take our backpacks and go to find a hotel. But suddenly it starts to rain and we seek shelter in a little restaurant and have a drink.
We ask for a hotel and finally decide to go to a little hotel, run by a real Sherpa.
After installing ourselves we walk a bit along the trail we will have to go tomorrow.
Later we have dinner in the garden. After sundown it soon becomes windy and cold, but it is an enjoyable evening, talking about the trekking with the Sherpa and with Chris from New-Zealand and his girlfriend Herta from Germany. During the following weeks we would meet them again at many occasions.






DAY 5: Besi-Sahar (760m) to Bahundanda (1260m)

After a good night sleep and an early breakfast we finally begin the trekking. The sky is blue but it remains cool as long as we walk in the shade. After an hour or so we meet a caravan of 20 or more asses carrying their loads on the small paths. It is the first one of several caravans that we would see each day. A golden rule: when a horse or as must pass, remain on the safe side of the path, next to the mountain! And only use the bridges when there are no caravans coming from the opposite direction. In the beginning the scenery is not spectacular: an open landscape with woody hillsides. At the border of the woods we once see wild monkeys.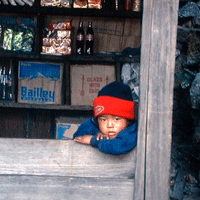 Every hour or so there is what is called 'a restaurant'.
This is usually not more than a wooden shed, but they have drinks (tea, water, coke) and something to eat, like doughnuts, Tibetan bread, fruits,...and we can have a rest.
This day we have the first difficult climb. Bahundanda is a little village that is situated at an altitude of 2200 m. It is a steep climb of more than two hours to reach the village. With the hot sun and a heavy backpack it is hard work.
Late in the afternoon we arrive and we book a room in the Swiss Alpen Hotel. As the name suggest this hotel is run by a Swiss guy. He is married to a Nepalese lady. The hotel is clean with excellent sanitary equipment, the beds are good and the food is excellent. We are a bit tired and there is nothing to do after sundown. So we go to bed early.




DAY 6: Bahundanda (1260m) to Chumje (1450m)
Breakfast at half past six: pancake with honey and tea.
And then on the road again. And it begins with a disappointment: all the climbing we did yesterday was in vain. From Bahundanda we have to go down as much as we have climbed yesterday. The landscape remains much the same, but it is generally going upwards with now and then steeper parts. We now follow the valley of the Marsiyangdi river.
At midday we stop at Jagat and there are a lot of trekkers coming towards Bahundanda. For a moment we were afraid that it meant that the crossing of the Thorung-La pass was impossible, but it was a group who had been trekking around Mount Manaslu en was going back to Besi-Sahar.

We have to cross the river at many occasions. Most of the hanging bridges are new and very solid. So nothing to be afraid of, even for me - and I have fear of heights.
Most of the times we just walk alone: there is only us, the sky, the hills and the Marsiyangdi. The roaring sound of the wild river will with us day and night for the coming week.

In Chumje we stay at the Tibetan Hotel (80 Rps/room).
In this part of Nepal marihuana grows in the wild. And although dealing and use of the stuff is illegal it is readily available.






DAY 7: Chumje (1450m) to Bagarchhap (2160m)

We get up around 6 and have breakfast with apple-pancake, chapati a kind of flat bread), jam and coffee.
We go on at 7.30 and it seems that the road is lees steap than the days before. Maybe we just are getting used to climbing roads...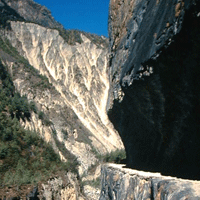 From here on we walk high above the Marsiyangdi river, who sometimes dissapears between enormous rocks. But then in Tal at 1650m the river flows through a broad valley.
We are now leaving the province of Lamjung and are entering the province of Manang.
It is an easy walk in the valley and after we crossed the river over a hanging bridge, we arrive in Kharte where we stay to eat and to rest.

And then the road goes up and down to Dharapani (1920m). Here we can clearly see the Tibetan influence. At the entrance and exit of the village there is a chorten, a kind of gateway with 3 little towers (painted white, red and black) on top of it.
An hour later we arrive at Bagarchhap from where we have a nice view on the Manaslu peak and on Annapurna II.
We stay at Pisang Guest House. And although it is just 2.30 PM there is no hot water anymore to shower. The sun is shining but already at 4 PM she dissapears behind the Annapurna and without the direct sunbeams it is getting rather cold. So we get some rest in our sleeping bags until diner is ready.
We eat some kind of loempia and vegetables with curry and go to sleep early because there is not much else to do and we are tired.






DAY 8: Bagarchhap (2160m) to Chame (2620m)

This morning we see a beautiful sunrise above the Annapurna II.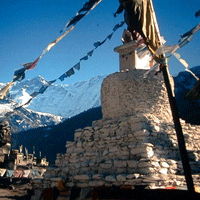 After the apple pancakes and tea, we go on but today it is rather difficult to start.
We still feel tired and we also take the wrong turn just outside Bagarchhap and we go the wrong way. We have to go back and so after half an hour we are back where we started.
It is a rather difficult road with lots of stairs and some landslides too. Time to try one of the energy bars!
In Lattemarang we stop for tea and I am allowed to take some photographs inside a Nepali house.
The road goes on through forests with now and then a view on the Annapurna peaks. Around 1 PM we arrive at Kotho where we rest and eat. eggs, loempia and momos. These momos are dough pancakes filles with vegetables and then steamed or fried. It looks a bit like chinese dim-sum.
From here on it is an easy one hour walk to Chame, where we stay at hotel Holiday. From here we have a nice view on the Manaslu peak.
Around 4 PM the sun dissappears after the Annapurna but for a long time we can see the Manaslu glowing in the sunlight.
It is cold early in the afternoon and so at a local store we buy a pair of gloves and a cap.(360 Rps)

in the evening we eat in the dining room sitting around the stove. But our bedroom is very cold and it is not a pleasant thing to go out to the toilet at night.






DAY 9: Chame (2620m) to Pisang (3200m)

Today we will have to climb almost 600m. Most of the time we walk through a pine tree forest and the road is steadily climbing.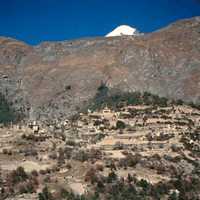 We stop for tea on a sunny but not very clean restaurant in Brathang (2840m) and go on through the forest until we reach Dukhure Pokhari. Here we stay to eat. The sun is shining bright and we enjoy the warmth, the quiet atmosphere and the spectacular view on the Annapurna mountains.
We stay there for more than an hour.
From here it is an easy walk to Lower Pisang where we stay at hotel KHARMA BEAUTIFUL.
From here we walk a few kilometers to see Upper Pisang with its new Buddhist temple.
The food is getting boring: rice or noodles with vegetables. Today the vegetable is some kind of cabbage and also carrots.

It is also clear that we need to acclimatize.
Especially H. has some signs of altitude sickness.
The last days she doesn't sleep well and has a persistent cough.
Hopefully it will be better soon, because the day after tommorow we will have a day to rest and acclimatise in Manang.






DAY 10:Pisang (3200m) to Bryaga (3475m)

The road to Manang is broad, bery dusty and although it is easy to walk we have some difficulties. It is going better around 10 AM. Then we are in Humde, where we stop for tea. There are some festivities and the local youth is rehearsing some songs. The sun is shining bright on the Annapurna IV and Gangapurna on our left and on Thulu peak on the right. It just is marvelous!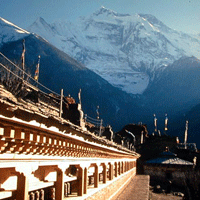 Along the road there is a little airfield. We guess this is Manang Airport.
At 1.30 PM we are in Mungi where we eat yak meat and then we go further on the dusty road to Bryaga and the NEW YAK hotel, close to the Marsiyangdi and the Annapurna IV.
We are here at the same height of Manang and this is a very nice hotel, where we have a room with toilet inside for only 170 Rps. So we decide to stay here for 2 days.
Now H. coughs more and more and also has a little headache.
While she goes to bed to rest I go out to visit the little old village higher up.
In the evening the food is delicious: yak steack, vegetables, french fries, boiled potatoes and a bowl of rice with yak meat and curry. With this we had some bottles of beer and tea.
There also was nice looking chocolat cake but we had eaten so much that we couldn't have a dessert.
Due to the height we are having problems to sleep: every night we wake up several times.




DAY 11: REST at Bryaga (3475m)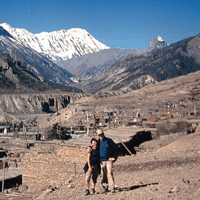 Today is acclimatisation day. So we just go aou for a walk. Without our backpack it is so much easier! We take the broad dusty road to Manang. This is the largest 'town' of the region. But is is not a very interesting place. It is just like the little villages that we have seen so far only a bit more of everything together. It looks a bit like those towns in western movies.
We walk around Manang, drink a Himalayan Java Coffee and a fresh mint tea, buy some pastry in a local bakery en go back to Bryaga.
In the afternoon H. has a long midday sleep and I go around to shoot some photographs.
There must be some Buddhist festival because a large group of musicians and singers comes around to play and sing.
In the evening there is no electricity and so we have a romantic candlelight diner. And somewhat after 7 PM it is time to get into bed and go to sleep....




DAY 12: Bryaga (3475m) to Yak Kharta (4018m)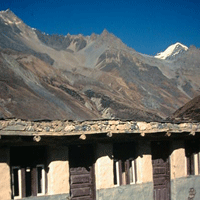 We leave the New Yak hotel around 8 AM. For our 2 days spent in luxury we had to pay 2500 Rps.
But now come the tougher part of the trekking. We have to climb to Thorung Phedi and that is 1000 meter higher than Bryaga.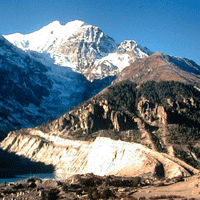 It is possible to do this in one day, but H. still has a little headache. So we decide to see how far we can. As we have more than time enough we can eventually do it in 2 days.
The weather is good but there is a strong wind. In Gunsang we stop for lunch.
The landscape is really breathtaking, as well literally as figurative and we take a long rest.
From here on we climb for another hour and we decide to stay in Yak Kharka. The Yak hotel is rather primitive. To have a warm shower you just get a bucket of warm water. But there is a nice little dining room with a stove. It is not yet 3 PM as the sun disappears behind the mountains and it gets really cold.







DAY 13:Yak Kharta (4018m) to Thorung Phedi High Base Camp (4700m)

It has been another bad night for H.
But as she normally sleeps better in the morning hours (after 4 AM) we are leaving Yak Kharka at 9 AM. This part of the trekking has no good documentation: the timing as indicated on the map that we have is wrong and also are Lonely Planet is of little or no use.
So we follow the signs that indicate the new route to Thorung Phedi. This is a road high on the right side of the Marsiyangdi valley. The road on the other side of the valley is very dangerous because there are many landslides.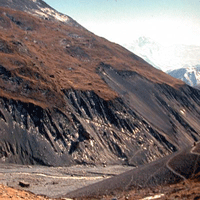 The weather is beautiful but at this height even in the sun it is not really warm anymore.
Nearer to Thorung Phedi we have to cross the Marsyangdi. Because we have followed the high road we have to climb down on a dangerous slope to the river and then climb up to Lower Base Camp at 4500m.
We arrive at 2 PM and decide to try to reach High Base Camp at 4700m.
This is another difficult climb of an hour, but this will give us a better start position to go to Thorung La tommorrow.
The negative side of this is of course that the chance of altitude sickness is greater. This is important for H. who still a haedache, but it is getting a little better now.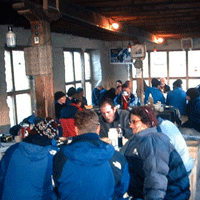 High Base Camp is full of people. Although the dining room has no stove and thus is very cold, the atmosphere is very good. Everyone is looking forward to tomorrow. We speak to some Americans who have done this trekking before and they have good news: the climb to the Thorung La pass is not as difficult as the climb from Lower Base Camp to High Base Camp. They tell us that from here to the pass it is a 2 hour climb.
We drink a lot of hot tea to get warm and go to sleep early.
We have to split our room with a young sherpa. Like H. he too has troubles with altitude sickness.






DAY 14:Thorung Phedi High Base Camp (4700m) to Muktinath (3710m)

Due to her headache and coughing H. has had very little sleep and I am also not feeling very good. I also didn't sleep well mostly because some groups left already when it was pitch dark at 4.30 AM. This is totally uneccesary and dangerous because at some places the path is slippery with snow and ice.
As our condition is not at all 100% we think about the possibility of getting back to Lower Base Camp and stay there for a day, but since it is 'only' 2 hours to the 5416m pass and that Muktinath is well below 4000m we decide to go.
We start at 7 AM and it is a difficult climb with steep winding gravelpaths amongst enormous gravel heaps. It really is exhausting: climb a few steps and then stop to breath and recuperate a bit.
Six, seven times you think that have reached the top, but then there is another path to climb...
At 9 AM we finally reach the Thorung La Pass at 5416m!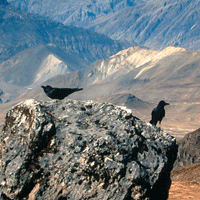 From there the landscape is really tremendous with incredible views over the Himalaya.
We admire the view, take some pictures and then hurry away from this inhabitable height.
It is still a long way to Muktinath and we now have to descend 1700m.
As we are going down we recuperate very fast. Half an hour after reaching the top the path is climbing again but to our astounishment we climb it much easier than a similar climb before the pass.
But it is mostly going down and down and down....
There are no small restaurants or tea houses in this region. And the constant descending is killing your knees. So we frequently rest resting in the sun and enjoying the landscape.
We also meet some little groups coming from Muktinath. This is the 'wrong' way to do it, because they start at 3710m, have to climb 1700m to the pass and then go down 700m. This means that they will reach an endpoint that is 1000m higher than their starting point. This means that they have a high risk to have altitude sickness.
Along the road, in the middle of nowhere, there is Thorung La hotel. We stop to drink a bottle of coke, but is so dirty that we do not even consider to stay there for the night.
So we go further down to Muktinath where we arrive around 5 PM.
There is still a room at the MORTH POLE hotel, known as the hotel with the best restaurant in Muktinath, but as always there is no warm water anymore. And as the water pipes are broken, due to heavy frost, it is the warm water bucket douche again.
The kitchen of the North Pole hotel is indeed very good. We have a nice diner and go to sleep early. We both sleep better than the days before, probably due to the lower altitude and to the tiredness after the long trip.






DAY 15: REST in Muktinath (3710m)

A day to rest!!!
After yesterday's trip we gave ourselves a day to rest and enjoy Muktinath. It is a really nice little town, totally different from Manang.
Muktinath is an important place of pilgrimage for both Buddhists and Hindoes.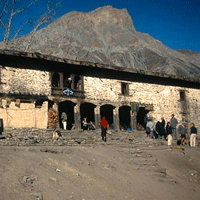 Around 9 AM the sun finally comes shining over the Annapurnasand the little town directly is full of life: the donkey caravan is leaving in the direction of Jomosom and the shopkeepers open their little shops. You can buy almost anything a pilgrim needs. There are little statues of Buddha in various poses but also of Sjiva, Ghanesj and other hindoe gods, tapestry and clothing in yakwool, hasj-pipes, prayer wheels, nice bronze so-called 'singing bowls' and many more.
In the afternoon we visit the monastery at the outskirt of the town. It is a pilgrimage place since ancient times and this is because on the grounds of the monastery there is a waterspring. This is a special spring because together with the water some natural gas escapes and is burning above the water.
In this spring you thus have 3 elements coming together: earth, water and fire.
The walled monastery has a large garden filled with garlands of prayer flags. It also has Buddhist as well as Hindoe temples in it. A hindoe priest is cleaning the Visjnoe temple and let us to have a look inside it. We have a walk through the gardens and then descend to Muktinath.
Back at the Nothpole hotel we go to the roof terrace to eat tacos and moussaka and we sit there for the rest of the day enjoying the sun and the imposant view of the Dhaulagiri.
That night we are not sleeping as well as the day before: somewhat before midnight there is a noise of yelling and trompetting from the camping place of pilgrms just outside the village. It probably had to do with full moon or something like that. But it certainly scared all the dogs of Muktinath. They kept on barking for at least another 20 minutes.






DAY 16: Muktinath (3710m) - Jomosom (2710m)

After this interrupted sleep we got up at 6 AM. I had liked to stay there a little longer but we have to go on. So we pack our backpack, have breakfast and leave together with the donkey caravan. As we are descending to Jahrkot we have a beautiful view of the Dhaulagiri.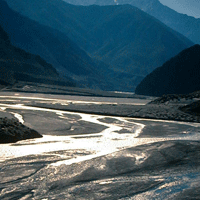 Then we have a broad road to Kingar and finally we can see the deep valley of the Kali Ghandaki. A steep descend brings us to Kagbeni where we eat in the Holiday Inn. Except for the name there is no likeness whatsoever with the famous hotel company.
Then we go and enter the Kali Ghandaki and almost immediately the wind for which this valley is renowned is blowing. It is like the Mistral in the valley of the Rhone is France. For hours and hours we have to struggle against the storm before we finally reach Jomosom.
This is an important town. There is an airport, a large military camp, a hospital, a bank, a post office and even an art gallery.
But we are looking for a pharmacy, because H. thinks that there is a flea or some other little insect in her sleeping bag and the little creep bites! So we want to buy some insecticide to get rid of this nuissance. At the entrance of Mustang Hospital there is a pharmacy. You can buy a lot of medicine, especially al kinds of antibiotics, but no insecticide.
But we are told that there is another pharmacy at the airport. But there they cannot help us either.
So we go back to the Hospital. At the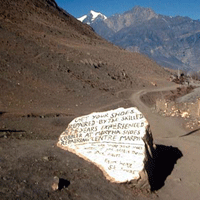 entrance I see a group of young people on a bench, enjoying the sun. They seemed to be the personnel of the hospital and one of them says he is the doctor. But he has no insecticide either. After a long talk he finally goes to search something in the pharmacy of the hospital. He comes up with a simple solution: Polaramin pills. This is an antihistamicum that will not kill the flea, but it will at least do something about the itching.
We go back to find a hotel in the airport area. We take a room with a bathroom. There is an electric water heater so that we are sure to be able to take a hot shower. And there is also TV with BBC World, so that we can catch up with the world news.
We have diner on a table with the fire-pot underneath, together with an Australian couple. The evening is concluded with apple- and abricot-brandy and we stay up late. When we go to sleep it is after 8 PM.






DAY 17: Jomosom (2710m) - Tukuche (2590m)

After a nice warm shower we go to have breakfast at the 'German bakery' near the airport.
Jomosom Airport is very busy. There is a coming and going of small airplanes. They are not flying over the Himalayan peaks but are following the valley of the Kali Ghandaki.
At 8 AM we are on the road again: the massif of the Annapurna and closer by the Nilgiri peaks are dominating the right side of the valley. A few hours later we enter Marfa and now the valley becomes more open and we have a landscape with farms and a lot of fruit trees, especially apple trees.
On a roof terrace in Marfa we take a break with apple pie and coffee and we study the map. To go to Naya Pul can be done 5 days and we still have 10 days. So time enough!
And as Chris Blackman said at Manang :Why hurry? The glacier don't hurry and see what they acheive.
After the stop at Marfa te wind begins to blow again, harder and harder. We have to struggle for almost 3 hours to reach Tukuche. Meanwhile the weather is getting worse. There are a lots of grey clouds that cover the sky but luckily it is not raining.
The first hotel of Tukuche is the HIGH PLAINS INN, annex Dutch Bakery, owned by a young Dutchman who has married a Nepaly girl whom he met in Amsterdam some years before.
The hotel is very nice and we take a large room with a sitting corner and bathroom for only 500 Rps.
The food is really excellent and after we had lunch H. is going to rest while I go up in the mountains behind the hotel. High above Tukuche the farmers are busy plowing their fields with the help of waterbuffalos. The weather is now really cold and I hurry back to the hotel. Before diner we take a walk in Tukuche but there is nothing to see. The few little stores are already closed. We go to the YAK HOTEL to see the stuffed yak and it is there alright but it really is not worth the effort to go and see it.
In the evening we eat fresh paste with tomatoes and spinach and a selection of local cheese. And after sitting by the open fire we have a nice talk with the hotel manager.






DAY 18: Tukuche (2590m) - Ghasa (2010m)

We both had a good nights sleep!
At 7 AM the breakfast is already waiting for us. Another day in the Kali Ghandaki is waiting for us and as the wind usually strenghtens after 10 AM we try to part early.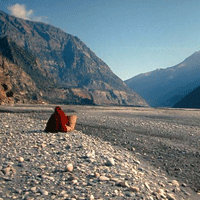 In Larjung we pass by a nice Buddhist temple at the slope of the valley. And now the sun is breaking through and it gets warm again. In the middle of the Kali Ghandaki we meet a woman who is sitting there selling apples.
We follow a caravan track but we frequently have to cross brooklets. And in a desperate attempt to jump over one of these brooklets H. gets her feet wet. So it is time to change socks and have a little rest.
Around 11 AM the clouds have covered the sky again. Now we have reached Kokhetanti and here we cross the Kali Ghandaki by a very large hanging bridge. After Dampu the valley becomes very narrow. We have to cross the river again and we stop at Hotel Mountain View to eat lunch. During our trip we have seen a lot of pleasant grammatical mistakes, but here they mention to serve 'snakes' when in fact it is just 'snacks'.
From here on we have to descend through a forest where there is a lot of logging going on. We have to cross the river several times and before reaching Ghasa we see a massive landslide on the other side of the river: this one is hundreds of meters high and it goes on for several kilometers.
When we reach Ghasa we are looking for the EAGLES NEST hotel. Ghasa is in fact a community that consists of 3 different villages. Of course Eagles Nest was in the third village. It was 4 PM before we arrived and so it has been a long walking day again.
And Eagles Nest may be one of the better hotels in Ghasa, it cannot compare at all with our hotel in Tukuche. Around the stove we talk to a Nepali porter who tells us that we are very lucky with the weather. Two weeks ago it was snowing and freezing very hard on Thorung La and the pass had even been closed for some days.






DAY 19: Ghasa (2010m) - Tatopani (1190m)

After a cloudy start of the day the sun begins to shine after 8 AM.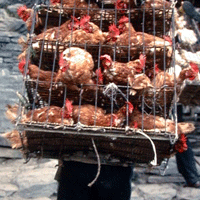 The track is going up and down from high above the valley to close by the river.
The landscape is more and more like a tropical forest: lots of bamboe, banana-trees, exotic flowers and eventually also grapefruit and oranges.
We stop for lunch at titre and go further to Dana.
Here we have lots of farming: rice fields, fruit trees and vegetable gardens, all walled.
Half an hour further and after a steep descend we enter Tatopani. The village has one long street with shops and hotels. We stay in hotel DHAULAGIRI in a chalet in the beautiful garden (80 Rps). At the back of the garden you can descend to the river and the famous warmwater springs.
These are in fact two large cemented bassins, approx. 5x5 meter, filled with water from a hot water spring. For only 10 Rps you can have a warm relaxing bath. And warm it is! After half an hour simmering I look like a cooked lobster. Time to get out and cool off.
Although Lonely Planet is full of praise for the restaurant at hotel Dhaulagiri, we find our steack and chicken with vegetables not really fabulous. After diner we go for a walk through the shopping street and go to bed around 7.30 PM.
Tommorrow we will have to choose which track to follow: the long climbing track to Poon Hill or the low easy road to Beni.






DAY 20: Tatopani (1190m) - Sikha(1935m)

We slept very well as the sound of the roaring river is deafening all other sounds (like snoring...)
The track here is going over lots of landslides. A few years ago a landslide destroyed a part of Tatopani that was dragged down into the river below.
Half an hour further we comes to the crossing where we have to decide: Beni or Ghorepani. We have enough time to go to poon Hill and we are not exhausted and so we decide to take the track to Ghorepani.
Immediately we have to climb stone stairs and it goes on and on. We are walking through the famous rhododendron forests. The weather is a bit misty and so we don't have the magnificent view that we expected. After hours and hours of endless climbing we finally reach Sikha. This is a small village without shops, but we have the possibility to buy some yak cheese at a local farm.
In the middle of the night, around 1.30 AM, there is a lot of noise outside with a large group with torches passes the hotel. It seems that there has been some trouble with Maoist rebels in Katmandu and in Pokhara. In the events 30 policemen should have been killed and in Pokhara a bank was plundered. But these are rumours and here in the mountains everything seems to be calm and quiet.






DAY 21: Sikha(1935m) - Deorali(2990m)

Today the weather is very nice: we can clearly see the Dhaulagiri, Tukuche peak and the top of Nilgiri South.
We are walking through a forest and the higher we come the more imposing the Dhaulagiri is.
When we reach Ghoptekarka we also see the top of Annapurna South above the nearer mountain range. Here we stop to have a rest in the sun. It is sunday and it looks like the Nepali having a day of rest also. We don't meet donkey caravans and very few porters.
One hour later we reach Chitre, right under the top of the Annapurna South.
Our lunch consists of baked patatoes, scrambled eggs, oignon and tomatoes and really delicious apple fritters with custard sauce.

At Deorali we choose to climb to the highest lodge in town: HILLTOP hotel, where we get a corner room. Laying in bed we have an unforgetable panoramic view with from the left to the right: Dhaulagiri, Tukuche Peak, Damphus, the Nilgiris, Annapurna I, Tarke Gang and Hunchuli.
We go to sleep early as we will get up early to see the sunrise on Poon Hill tomorrow morning.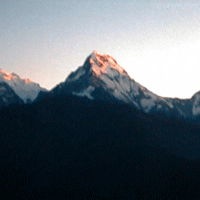 DAY 22: Deorali(2990m) - Hille (1735m)

Out of bed at 4.50 AM and climbing to Poon Hill some 15 minutes later. It is still dark and we have to use our flashlight to follow the track. It is a climb of more than 300 meter but without the heavy backpack it is easy. An hour or so later we reach the top of Poon Hill. And now we have to wait for the sunrise.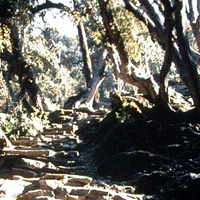 It is very very cold but the view on the Himalyan peaks all around is wonderful.
Around half past six the first sunrays reach the top of Annapurna and Dhaulagiri. It is a beautiful spectacle but after half an hour we decide to go do to the hotel to warm up and have breakfast.

Then we go on the road to find some warmer regions.
It is a rather constant descend and so by noon we already reach Banthanti. Here we take a long rest on a terrace with view on the Macchupukare.
En then we descend further and from Ulleri on the descend consist primarily of endless steep stone stairs. We really feel sorry for the trekkers who are going this way up to Poon Hill... but then of course, two days before we were the ones that have to climb from Tatopani to Poon Hill.
When we reach Hille we are already 1750 meter lower and we feel it in our knees!
In the evening some Tibetan girls come next to the hotel and set up a small flea-market for the tourists. We go to have a look and we buy a nice copper candle-holder in the form of a lotus flower and an old padlock in the form of a dog.






DAY 23: Hille (1735m)- Naya Pul - Pokhara

This was our last night in the Annapurna Conservation Area. The descend goes on but is less steep now and so we walk through ricefields to Nathantanti where we have a short rest.
And so we quietly walk to Birethanti. There is a wedding and so the village is feasting: an little music band is producing a lot of noise and there are many tables with food for hundreds of guests.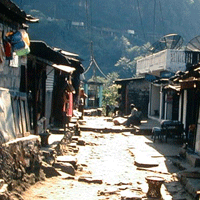 At the border of the river is the last police checkpost and a little bit further another checkpost of ACAP.
After lunch we quietly cross the river and walk to Naya Pul. This village looks a bit like Besi Sahar, but it is less desperate.
Here we reach the road with the busstation. We only have to wait 10 minutes to take the bus to Pokhara. This bus is as old and used as the one that we had to go to Besi-Sahar, but fortunately this trip only takes 3 hours.
In Pokhara we don't stop at the central busstation but go further to Lakeside district.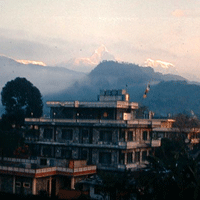 We plan to go to the lake and look for a hotel there. But we are halted by a Nepali on a bicycle who wants us to have a look at his hotel first: close to the lake and only 300 Rps for a room with bathroom and sunny terrace.
And this way we stay in Blue Haven Guest House, a small quiet hotel with a large beautiful garden with flowers and also papaya and banana-trees. For as far as we can see there are no other guests for the moment. And just as we plan to go to the lake, the landlady comes out of the kitchen with a bowl of fresh papaya as welcome present.
So we stay, have diner in the garden and decide that the discovery of Lake Pokhara will be delayed until tomorrow.






DAY 24-26: Pokhara

Bleu Haven will be our home for a few quiet days.
Pokhara lake is a very large lake and you can see the Himalayan peaks in the far distance. But you cannot walk around the lake. You have one broad shopping street and from there you can get access to the lake by small streets who lead to places where you can hire a small boat.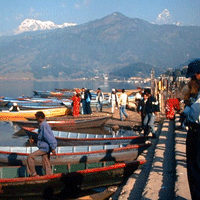 Pokhara is clearly a town that lives from the tourist industry: books, postcards, all kinds of Tibetan things, textiles, trekking material, photographic material (mostly films and very little cameras), restaurants, money changers,...
We walk for a few hours and then go to thr Hungry Eye restaurant to eat. This restaurant was highly recmmended in our Lonely Planet and it is a beautiful building. We choose a dish with fish from the lake. Not bad but certainly not magnificent for our 800 Rps. For that money we could have had 8 or more nice meals in a little restaurant!
That night we have trouble with mousquitos for the first time in Nepal. In the mountains we hadn't seen/heard a single mosquito.

Our last day in Pokhara had to book a seat in a Swiss bus to Kathmandu and telephone to Transavia to confirm our flight. We went shopping and found some time to write and send postcards.






DAY 27: Pokhara - Kathmandu

We have to get up early as the bus leaves at 7 AM.
Two stops to eat and 8 hours later we arrive at Kathmandu Central Bus Station where we take a taxi to Thamel and at 4.30 PM we are back at Hotel Swoniga.
After a good warm shower we go out to stroll through Thamel, eat and at 8.30 PM, tired of the long bus journey, we go to bed.




DAY 28: Kathmandu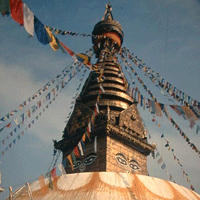 The weather is much cooler than it was when we arrived a month ago. Especially the mornings are misty and cool.
Today we are planning to visit the Swayabuthna temple high on a hill just out of town, of which we have a view from the roof terrace of hotel Swoniga.
It is some 4 or 5 kilometers away and we go on foot. Outside the Thamel district it is much more crowded and we also see more how the Nepali people live and work.
The Swayambuthna Temple is also known as the ape temple and not without reason. You have lots of apes everywhere who are begging for food. The temple itself is very impressive with the eyes of Buddha watching Kathmandu valley.
At last the sun has driven away the mist and so we find that 20°C is rather warm for the beginning of december. The Nepali however say that it is a bit too cold for the time of the year.
Back at the hotel we go to the roof terrace and enjoy the sunshine while it lasts.
In the evening we go across the street where we found a nice Tibetan restaurant.




DAY 29: Kathmandu - Bahktapur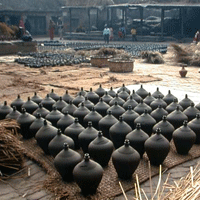 This morning it is cold and misty again. After breakfast in the Tibetan restaurant we take a taxi to go and visit the ancient city of Bahktapur. The traffic is very dense and chaotic but Bahktapur is only half an hour away.
To enter the old center of Bahktapur as a tourist you have to buy an entry permit (10 USD!).
But it is well worth it: many squares with old temples and palaces, especially on Durbar Square. But there are also many shabby streets where the poorer people live.
We stay there for 4 to 5 hours and then take a taxi back to Thamel.






DAY 30: Kathmandu - Antwerp

For our last night in Kathmandu we have slept very well. In the morning we take a shower, have breakfast in the Tibetan restaurant and pack our things.
At 1 PM we have to leave our room. We leave our backpacks at the hotel lobby and go for a last walk through Thamel. We buy some more souvenirs, drink ginger tea on a roof terrace, look around a bit and finally take a taxi to the airport.

Our flight back is right on schedule and so we land at Schiphol around 6 AM.
From here we have a train to Antwerp, where we arrive at 9 AM.