Classic Camera Collectors Club
Informatif website of Frank Lakiere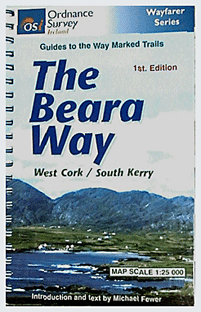 In the soutwestern part of Ireland (at the bottom left on the map) are the counties Cork and Kerry.
The rivers have cut out deep valleys between the mountain ranges. The peninsulas that were created this way stick out like fingers into the Atlantic Ocean. The Iveragh peninsula, with in it the highest mountain of Ireland (Carountoohill 1039 m), is the best known to tourists.
Next to Iveragh peninsula lays the Beara peninsula, with the range of the Miskish and Caha mountains as its backbone.
Beara is enclosed between Kenmare river in the north and Bantry Bay in the south. The peninsula has only a small population with small villages next to the narrow flat meadows next tot the shores.
Beara also doesn't have spectacular touristic places but you will find here lots of prehistoric remains, like ringforts and stone circles. But such remains can be found all over Ireland.
This makes the Beara peninsula a place with less tourists then the Iveragh peninsula. So you can make trips into the mountains of Beara and see not one other person for the whole day. But be sure to meet a lot of sheep all the time...


Day 1 : thursday 4 august 2005
Brussel - Glengarriff

We left at Brussels Airport at 12.20u and we arrived around 14.20 at Cork Airport.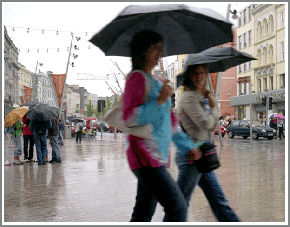 This is a rather busy regional airport. When we go out of the building to look for a bus it starts to rain. So we know for sure that we are in Ireland.
The bus takes us to Parnell Place near the centre of Cork. Here we can take another bus to Glengarriff at 18.00 and so we have a few hours to visit the town.
Cork has a lot of colourful shopping streets but it now rains heavily and so we end up in a bar where we drink our first Irish Stout. It will not be our last!

To Glengarriff is a 2 hour ride in a very luxury bus. The driver drives very calmly and we pass Bandon and some other country villages. Halfway the bus stops for some 5 minutes. The passengers can go out to smoke a sigaret and some go to a mini supermarket to buy a drink or some sweets.
We pass the town of Bantry and from here on we have a view on Bantry Bay.
We arrive at Glengarriff just in front of the Cottage bar where we have booked a room (Diner + Bed and Breakfast = 40 EUR pp.)


Day 2 : friday 5 august 2005
Glengarriff

When we get up the weather looks fine : a little bit cloudy with lots of sunshine. It is 8.30 in western Europe but here in Ireland it is still only 7.30 and breakfast is served at 9.
So we have time for a little walk to sharpen our appetite.
Glengarriff is a real touristic centre : the town is just one long street with shops, restaurants, B&B's,... all for the tourists who come here mainly to see Garinish Island and its famous gardens.
The small Garinish Island once was just barren rock until the 1900's. Then the gardens were planted and now the island is an oasis of exotic flowers and plants.




After the full Irish breakfast (eggs, bacon, sausages, blackpudding, toast and coffee) we go to Glengarriff Bay and take a boat to Garinish Island. On the way the boat stops at some rocks where dozens of seals are taking a sunbath.
The gardens are really beautiful and we enjoy the panoramic view from the Martello tower.
In the afternoon we are back in Glengarriff and go for a 7 km walk and we are impressed by the beauty of the landscape.
William Thackeray who visited this region wrote that within 5 miles around glengarriff the landscape is so magnificent that no pen can describe it.

Day 3 : zaterdag 6 august 2005
Glengarriff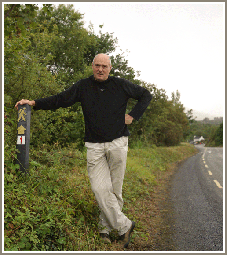 Our plan was to have our first trekking day today, but the weather has changed completely. It is raining heavily from the low dark clouds and so we decide to postpone the start of our walking journey.
We move to the B&B Rockwood House a bit further next to the old bridge over the Glengarriff river.
In the afternoon the weather is a bit better and so we go out to look how the start of the trekking is like. After a few 100 meters we find the first of the 'yellow backpackers' that mark the Beara Way.
In the local tourist information shop we buy the book The Beara Way which is a handy small format booklet with a description and 1:25000 maps of the route.
The rest of the day is cloudy but in the evening we still have a bit of sunshine.


Day 4 : sunday 7 august 2005
Glengarriff - Adrigole (16 km)

After our irish breakfast we leave Rockwood House around 09.00 in grey but dry weather. We follow the main road (R572) for a few kilometers. From the road we have a view on Garinish Island.
And then the Beara way goes right into the Magannagan valley. At first we have a small asphalted road that soon beomes a smaller farmroad and finally a mountain path that climbs steadily. After 8 km we reach the pass between Gowl Mountain and Sugarloaf Mountain (574 m). From here we should have a beautiful view on Bantry Bay but all we see is mist and fine rain.
The path now goes through very wet bog and peat and soon our shoes are soaked.
Next tot he path you have many remains where once the peat was removed.
After the wetlands we soon reach an asphalted road that descends to adrigole Harbour.
We reach the R7572 again and follow it until we reach the Glenbrooke Bar. This is situated next to Hungry Hill Lodge where we can stay in a wooden chalet. There is no possibility to have diner there and because it is sunday the little shop some 2 km away is closed. So we are happy to have some cookies and energy bars to eat. And then we go to the bar and we wash it all down with a Guinness and/or a Murphy's Irish Stout.

Day 5 : monday 8 august 2005
Adrigole - Castletownberehaven (22km)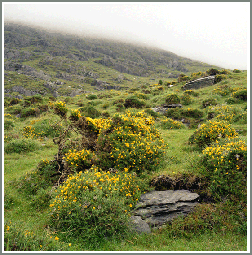 Breakfast will be served at Glenbrooke Bar. On the tables outside the frontdoor the full ashtrays and the empty beer glasses are the silent witnesses of last evenings feast.
All is still closed but ebventually at 9 o'clock breakfast is ready and it really is a nice Irish Breakfast and we even have fried potatoes.
The Beara way follows the R572 and passes the harbour. But we must have missed one of the waymarks because its only after some 5 kms that we can leave the road and go to the southern slopes of Hungry Hill (685 m).
The Irish name for this mountain is Cnoc Doad. That means Mountain of Doad but who or what Doad is has been lost in the mist of times.
The top of Hungry Hill is also lost in the mist, not that we can look up to many times to admire the scenery because we have to be careful to see where we put our feet in the wet peat and bog.
In many places the slope is made of sandstone plates that are barren and very slippery. On these places we have to be very careful not to slip.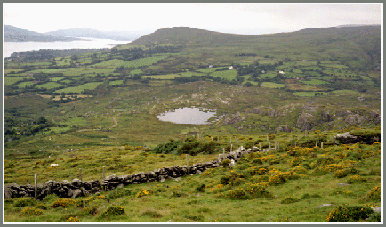 The Beara way then stays on these slopes on the same height for some kms and then slowly descends to reach a little lake (Park Lough).
Then the way is climbing again and after a big turn on the slopes of Hungry Hill we reach the Knockagree.
Here we have a rest and have our lunch (cookies and water).
The way is noe descending through wet peat grounds unto the Owengarriff river adn from here it climbs again.
After waymark 63 we turn right and after 1,5km we see a little lake that is not marked on our map. Also we can not see any yellow waymarks and so we decide to go back.
At waymark 63 we see that we had to leave the road and go straight on in the field.
So we are back on track again but we walked a 3 km extra and that happens of course just on the longest trip.
The landscape remains mainly a mixture of rocks and wetlands. At our left we regurlarly see Bantry Bay and Bear Island.
When we cross the Akahista river the Beara way descends to Castletowbere.
We now have drunk all our water and so at the first shop that we see we stop to buy some bottles of lemonade. After a refreshing rest we go further and finally find a place to sleep in ocean bay View. This is a B&B without breakfast and the room is very very small. But we have walked some 24 km today and we are too tired to search further.


Day 6 : tuesday 9 august 2005
Castletownberehaven

Today the sun is shining in a blue sky with some small clouds. We both didn't sleep well but that is not so bad compared with our stiff and painful muscles. Next to the harbour we sit in the morning sun and have a full breakfast. That makes us feel a lot better and from here we go to look for a 'real' B&B. Knockanroe House is situated outside the town center on the way to Allihies.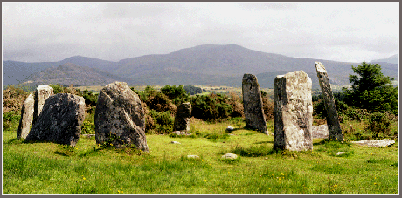 In the afternoon we go for a walk to stretch our muscles and we visit the Dereentaggart stone circle.
And then we go to Catletown where you have a choice of restaurants and pubs. And one of the supermarkets has a licence to sell alcoholic beverages and so we buy some cans of Guinness to drink on the sunny terrace of our B&B.


Day 7 : woensdag 10 august 2005
Castletownberehaven

Dunboy Castle is situated 3 km outside Castletown. This once was a neo-gothic castle. From 1730 the English family Puxley owned Dunboy Castle. They also were the owners of the coppermines in Allihies. The novel Hungry Hill by Daphne du Maurier is based on the family war between the English Puxleys and the Irish O'Sullivans.
With the Irish civil war in 1921 the castle was burned down and it remained a ruin. But now works have begun to restaure the castle and make it into a luxury hotel.


From these ruins have a beautiful view on the bay and the surrounding mountains.
While going back to Castletown we walk to the old Glebe graveyard where the most recent tombstone dates around 1850. The potato disease that started around 1845 hit this region very hard. The famine killed thousands and sometimes the deads were so abundant that massgraves were made.
It is estimated that of the 8 million Irish some 2 million died of famine and 3 million emigrated to America.
After a little nap in the afternoon we go to McCarthy's Bar. This bar figures on the cover of the book 'McCarthy's Bar' that describes Pete's journey through Ireland. A very amusing book and ceratinly worth reading.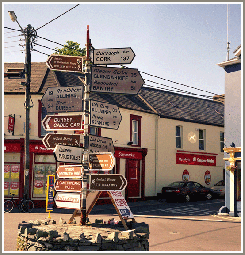 Day 8 : thursday 11 august 2005
Castletownberehaven - Allihies (14 km)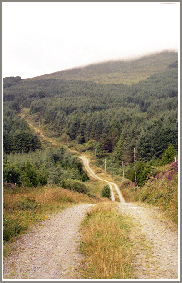 It is sunny when we leave this charming little town and go to the Slieve Miskisch Mountains.
We stop for a while at the Dereentaggart stone circle and then go further and pass a very large ringfort.
The Veara way now enters a pinewood and the path becomes rather steep. We climb 180 m in 1,5 km. That is a climbing percentage of 12%.
We are now at the side of the Knockgour (481 m) and it starts to rain gently. But the view is magnificent : behind us we still can see castletownbere and Bantry bay and in front of us we have Kenmare river.
The path is now slowly descending and very easy going. At many places next tot he road are signs that warn that there are old mineshafts. So it can be dangerous to go into the fields.
Soon we see the silhouet of the chimney of the old powerstation of the mines of Allihies and below we clearly see the sandy beach of Ballydonegan Bay.
After an easy walk of some 4 hours we arrive in allihies and book a room in Sea View.
Thirty years ago I was in allihies for some weeks in a house of O'Sullivan. The Sea View B&B is now run by the old O'Sullivans son. He was 12-13 years at that time and remembers it well, because his father rented that house where we were only 2 or 3 years. Then the O'Sullivans decided to live there themselves.



As the sun shines we decide to go to the beach. The beach is not made of fine sand but of very tiny sandstone pebbles. This was waste from the washing of the ore of the coppermines and it was transported to this bay from 1811 to the end of the 19th century. And now it is a perfect place for a sunbath.

In Allihies you have only 1 restaurant. So that is the place to go to eat in the evening.


Day 9 : friday 12 august 2005
Allihies - Dursey Island - Allihies (22 km)

After a nice full breakfast (they say that they have the best breakfast table in ireland, but that is probably an overstatement) we go to Dursey Island.
The first kms are on an asphalted road but from Foher we have to climb on the side of the Lakacroghan (260 m) high above the cliffs.
Looking back from here we can see the colourful houses of Allihies and in the background the curled hills with inside the copper veins that once were so important for this region.


After some 8 kms we reach Firkeel Gap where we cross the R572 that goes right to the Dursey Sound cable car.
But we have to go left into the fields, up and down, until we reach an observation post from world war II. Ireland remained neutral during the war and these observation posts had to report invasion troups.
From here you have a panoramic view on Dursey island and on the Atlantic Ocean.
We now have a steep descending path until we reach a farm from where we can go to the cable car.
From what we see from here it is only worth the trip when you actually want to use it.
We turn right and soon reach Firkeel Gap and return to Allihies.
After a nice 6 hour walk we are back and enjoy an irish Stout outside Jimmy's Bar.

Day 10 : saturday 13 august 2005
Allihies

The weatherforecast for today is not very promising : very cloudy and rain with maybe some sunny spells later in the afternoon.
The clouds and the rain were present and there was a lot of mist in the mountains.
We decided to go for a walk at the coastal road. BOn the retween Allihies and the coast is a place marked with 4 stones. These are the stones of the children of Lir. According to an ancient legend Lir had 4 children. When his wife died Lir remarried but the stepmother was jealous on the love of the children for Lir. So she used magic and changed the 4 children into swans. But when she then saw how much grieve Lir had she got remorse. But it was impossible to recall the spell. So the 4 swans had to roam for 300 yeras in ireland, then 300 years in Scotland and then 300 years at sea. After these 900 years they could come back to Allihies. And so the 4 swans returned to Allihies and changed back into humans. But now they were very old and so they died soon afterwards. They were buried under these stones.
We walk a few kms further along the rocky coast and then return to Allihies to warm up in the restaurant of Neill's Bar.
While we were drinking our Stout, the witress comes quickly to the windows and shuts the curtains. She wits a minute or two and then reopens them. The reason for this was that at that moment a buriel procession was passing.
Later that afternoon the weather improves through and we just stay there sitting quietly on a bench in the sun.

Day 11 : sunday 14 august 2005
Allihies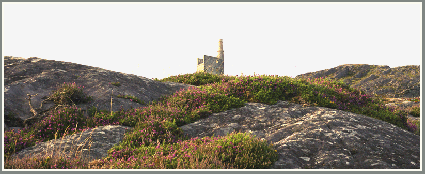 The planning was to have a quiet day at Ballydonegan Beach, but the sun stays behind the clouds. So we go walking in the hills around the old coppermine of Allihies instead. These are the mines that Daphne du Maurier describes in its novel 'Hungry Hill'. Allihies then was a crowded little town with lots of miners that came from Wales to work in Ireland. These Welshmen were mostly anglicans and so they built their own temple a little bit outside the village. This building is noe restaured and will be a museum of the mines of Allihies.
In the mountains around are the remains of the old pumphouse where the steam engines were placed. The chimney of the pumphouse is recently restaured.
When I was here 30 years ago you could still go through the old entrance. The mine was totally inundated but the entrance was like a large cave with at the end a pool of poisonous green water.
Since there have been new prospections to see if with the better price for copper it would be geasible to reopen the mine. It seemed not worth the effort and so the entrance was closed with a large iron gate and a big rock in front of it.
In the vicinity many regions are encircled with barbwire and have warning signs that it is dangerous to enter because of old mineshafts that can collapse.


Dag 12 : monday 15 august 2005
Allihies - Eyeries (12 km)

We leave Allihies and take the way next to the pumphouse. From there we climb further on the slopes of the Slieve Miskisch Mountains. After a few kms the path becomes an almost flat farmer's track with the mountains on the right and the Kenmare river on the left. Between te mountains and the river is farmland, mostly meadows for keeping cows.
After 8 kms we leave this path and go to the road (R571) that leads to Eyeries. This is a very nice village with lots of flowers erverywhere. It has a small supermarket, a cafeteria and 2 bars, but there is no restaurant.
For the first time we have trouble finding a room in a B&B. There is a group of cycling tourists who arrived there shortly before us anf they got all the rooms. But in one B&B the owner telephones around and he finds us a room in Inches House. We have to ge back some 2 kms but we do not regret it. Inches House is a totally new B&B and we are greeted like old friends.
We leave our backpack here and go to the colourful village of Eyeries. Next to the church is a bar with a terrace at the back. From there you have a splendid view on the surroundings.
Then we go to the supermarket and buy our diner : 2 sandwiches, a bowl with mixed salad and cake.
We go to Inches House to discuss our planning with coffee and cake.
It was intended to stay here for 2 days but Eyeries is really very small and most important : there is no restaurant. So we decide to go back to Eyeries in the late afternoon to take some pictures. Back at the terrace with the nice view we wait to see the sunset, but it gets rather cold. So when the sun finally sets we are already in Inches House having a nice warm shower.

Dag 13 : tuesday 16 august 2005
Eyeries - Ardgroom ( 13 km)

The weatherforecast is right : a blue sky and some white cloud. Eyeries lays there like a diamond in the morning sun. We follow the Beara way and go to STRAND. So we reach the shore and we follow the path next to the water, bay after bay, for 7 kms when we arrive in Ballcrowane Harbour.
When walling on the asphalted road we can see on our left a big standing stone. Thi si the famous Ogham stone. Next to a little harbour we have to make a little detour to see the stone. But it is on private property and they ask 2 EUR entrance fee. That seems a bit too much for what it is. We have already seen lots of standing stones. So we just go a bit further and have some rest and lunch in a quiet meadow.
Then we go on for lake Lough Faddha. First we have to climb a bit but once we reach the lake the path is very easy through flat meadows with a beautiful sight on the mountains.
This goes on until we see Ardgroom. The now asphalted road is steeply descending to the village that is in fact nothing more than a couple of hundred meters with houses on both sides of the R571 and a few houses far apart. But there is a supermarket and 2 pubs. One is the Holly Bar. Its name refers to the very old holly tree growing in the window next to the frontdoor. The second one is the Village Inn and this is also a restaurant in the evening.
For a B&B we go a little further up the street next to a little mountain river. The B&B is named Bruach na hAbhann. That means near the river and the owner is a German man who married an Irish woman. He loves the quiet surroundings after the hectic life that he had in Germany.
From our room we have a nice view on Lackawee Mountain and after a cup of coffee we go to the Village Inn to reserve our table for the evening.
Later we walk to Glenbeg Lake. Here is the source of Glenbeg river and it seems to be a place that is known for its trout fishing.
In the evening I receive an SMS from Belgium. The message was sent almost a day ago. And when I tried to answer I could not get a connection with Belgium. Many of these remote places in this part of Ireland have no mobile phone connection. Isn't that wonderful when you are on holidays!


Day 14 : wednesday 17 august 2005
Ardgroom

After breakfast we go to have a walk in the direction of Lauragh because our map shows several prehistoric stone circles and ringforts. All we have to do is to find them.
After 2 kms we see an impressive ringfort at the side of the road. Then we search for the stone circle. The path that we follow has barbwire on the sides with the warning that there are bulls in the meadows. So we think it better to follow the path and not to take a shortcut through the fields.
It is rather busy by the stone circle : a family in a car and some cycling tourist have discovered it too.
After this circle we go further to find a prehistoric stone row. But between the fields and meadows there are lots of stone walls. So how can you see if a stone row is prehistoric or modern? We certainly can not.
Back in Ardgroom we manage to get a mobile connectioon with Belgium. We are happy to hear that the weather over there is much worse than here in Ireland.
In the afternoon we take another walk, reserve for diner in the Village Inn and when it starts to rain we hurry to our cosy room and have a coffee while solving a crossword puzzle.

Day 15 : thursday 18 august 2005
Ardgroom - Lauragh (13 km)

During the night it was raining haevily but in the morning the sky is blue. Once on the road we have plenty of sunshine. It is an easy walk on the hillsideswhere we pass another very nice stone circle and also some standing stones.
After 7 kms we pass a bridge and then have to go steeply down a path through the woods. And then we reach the R571 and we go straight to the centre of Lauragh (of there is a centre at all) because we must find a B&B.
Lauragh is the village where the R571 connects to the Healy Pass Road. This is the way that runs straight through the peninsula and connects Lauragh with Adrigole. They started to build this road in the 19th century for military use but is was not finished until 1930. Now it is a spectacular touristic road.
Next to the connection is an old bar, the Ann Sibin. They have B&B but there is no room free. So we go a little bit further and find a room in the Mountain View. They have room and they also provide diner, if desired.
Lauragh is a village that does not seem to have a centre. When we walk along the R571 we see a post office and a school and we don't see a shop and apart from Ann Sibin we don't see a bar.
What Lauragh has is a large exotic garden : the Derreen Gardens. In 1870 Derreen House was owned by the Marquis of Landsdowne, Minister of Foreign Affairs, General governor of Canada and Viceroy of India under Queen Victoria.
He owned the place for 60 years and had these gardens planted. Derreen Gardens is especially known for its rhododendrons and for it tree ferns.
We walk in the gardens for a few hours and return to Ann Sibin where I try a Bulmers instead of a Stout. Bulmers is a local cider. It has a strong apple taste and it is very refreshing. Nevertheless I prefer Murphy's Stout.
Back at Mountain View we go for a little walk in the evening sun.
At 7.00 diner is served and it is really very tasty : first a salad with smoked salmon and maquerel, then breaded sea wolf with sauce hollandaise, carrots, green peas and potatoes and for dessert an apple/rhubarb crumble with coffee.
We finish this evening with a walk to the Ann Sibin and return at the B&B in total darkness.

Day 17 : friday 19 august 2005
Lauragh - Tuosist = Clonee Lough (15 km)

Maree, the hostess of the B&B, telephones for us to find us a B&B between Lauragh and Kenmare. We reserve a room in The Lake House and Maree proposes to deliver our backpack there. That way we only have to carry a small sack with lunch and water.
The weather is very nice for walking and without that big backpack we enjoy it even more.
The Beara way follows the main road for a while but then we have to go into the fields. We have a steep climb and then we are on the slopes of the Knockanouganish, the Knockgarrif and the Knockagarranne (414 m).
From up here we see the Clonee lakes (Lower, Middle and Upper Clonee Lake) and on the left the Lough Inchiquin.
At lake Inchiquin there is the very nice Glaninchiquin stone circle. From here we leave the Beara way and go left on an asphalted road along Clonee Upper lake towards R571.
In Lake House we are welcomed with coffee and cake. The rooms are more primitive than usual. We cannot have a room en suite and the boiler for coffee is in the corridor. But it is good enough and we really don't have to choose because it is the only place to stay.
Tomorrow is saturday and then it is very busy in the towns. So we decide to wait until sunday to go to Kenmare and to stay at the lake House for one more day.


Day 18 : zaterdag 20 august 2005
Clonee Lough (Tuosist)

Lauragh did not have a real centre but Tuosist is even worse. We walk to the Kenmare river and we pass the post office. This is also a small shop but otherwise there is no concentration of houses in the area. Next to the kenmare river is a big holiday park with lots of bungalows. We stroll along the beach and rest among the big boulders on the shore.
When we go back we stop at the post office to buy us an ice cream.
It is possible to rent a boat at the Lake House and to row unto the lake. The owner is very busy to have some boats cleaned and make them ready because the next day 16 fishermen will come to have a competition in trout fishing.
We walk in the direction of Kenmare to lokk for a walking path paralle to the R571. But that doesn't exist and with the many cars that pass on this narrow road it is not at all pleasant to walk here.


Day 19 : sunday 21 august 2005
Clonee Lough (Tuosist) - Kenmare

This morning is very cloudy and it rains. We are lucky that the owner of the Lake House can drive us to Kenmare where he drops us at the Square. It is still raining and so we go for the Rose Cottage, the first B&B that we see. To do honour to its name everywhere in the house you see something with roses and in front of the house is a rose garden.
The weather is not good at all to walk but we are here and we want to see what Kenmare is like. That's easy : Kenmare consists of 3 shopping streets that come together on the Square. You have pubs, restaurants, souvenirshops, clothing shops and supermarkets. And because it constantly rains and my rainjacket is not impermeable at all I buy me a raincoat.
When it rains less we go to find the old Cromwell bridge and the much older stone circle at the outskirts of Kenmare.
Back in town we decide to have a Chinese diner and back in our room we have a coffee to drink and a crossword to solve.


Dag 21 : monday 22 august 2005
Kenmare - Killarney

When around 08.00 we open our eyes and the curtains we see the blue sky and the sun invades our room. We decide to hurry so that we can be in Killarney by noon. But it will be difficult to get the 10.00 bus. Especially as I have seen a cute raincoat that would be perfect for my grandchild Ilias. But the shop opens at 10 o'clock. So we walk a bit around in Kenmare, buy the little raincoat, visit the tourist information centre where we see a very interesting exposition about the history of Kenmare and we arrive at our B&B at 11.30 with lots of time to get our backpack and get the 12.45 o'clock bus.
But to our surprise the Rose Cottage is deserted : the hostess is going out to shop and we already left the key behind. But the weather is really nice and we can wait in the sunshine on a bench in the rose garden.
We go to the supermarket to get our lunch : a sandwich with ham and cheese and a can of Stout.

Eventually we get on the 14.00 bus to Killarney where we arrive within an hour. Killarney has lots of B&B's next to the bus station but many of them are full. In the end we decide for the Railway Lodge.
Killarney is a much bigger town than Kenmare but it is not really a big city. Of course you have lots of shopping streets and the Guinness is a bit more expensive than in the villages of the Beara peninsula. And the restaurants are a lot more expensive!
So we decide for a fast food where we have fish and chips with green peas and a drink for only 8.20 EUR. The restaurant is not very cosy but the food is tasty and the chips are really good.


Dag 22 : tuesday 23 august 2005
Killarney

Killarney is famous for its lakes and for the Killarney National Park.
The weather is drizzly but neverthelees we go for a walk to Muchross House. Along the busy road there are big hotels and B&B's next to each other. But after a few kms we can leave the road and walk along the lake to Muchross House. Even here it is very busy with lots of tourists that are walking or go there by horse and carriage.
Muchross House is a very big mansion with a nice garden. To visit the house there is an entrance fee of 5,50 EUR. But the garden is free to visit. And a few kms further there is a waterfall that is worth the walk. It is much more impressive than our waterfall at Coo in Belgium.
But now the drizzle stops and it starts to rain. My new raincoat comes in handy. But the raining is over soon and as we return we visit the ruins of the abbey with in the cloister garden an age old holly tree.
From here we go back to Killarney where we visit the local horeca.
In the evening we go to the central station to check the hour table for our train to Cork.

Dag 23 : woensdag 24 august 2005
Killarney - Cork

Our trekking and walking in ireland has now come to an end.
In Killarney we take the 11.15 train to Cork. After a stop in Mallow it seems as if we go back in the direction of Killarney but we finally arrive safe and sound in Cork where we go to look for a B&B. After some walking around we find that the B&B's are concentrated in the vicinity of the train station.
Then we go and walk in the shopping streets of Cork with special attention to book shops. But when the shops close at 6 o'clock we go back to our B&B and later go to have diner in a restaurant.

Dag 24 : thursday 25 august 2005
Killarney - Cork

After a last full Irish breakfast we pack and go to the Panell Place bus station. The 10.30 bus brings us to Cork Airport from where we fly back to Brussels.